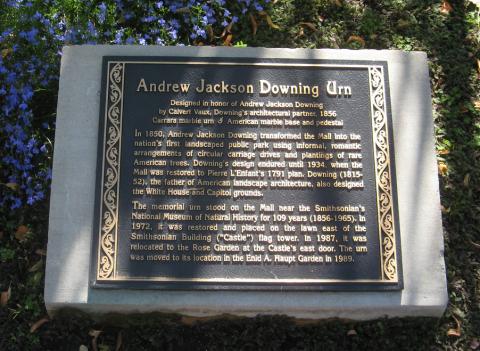 Andrew Jackson Downing Urn;  historic marker in the National Mall, Washington DC.  Photo by Joseph/Flickr (Noncommercial Use Permitted with Attribution/Share Alike).
Andrew Jackson Downing Urn
Designed in honor of Andrew Jackson Downing by Calvert Vaux,  Downing's architectural partner, 1856. Carrara marble urn - American marble base and pedestal.
In 1850, Andrew Jackson Downing transformed the Mall into the nation's first landscaped public park using informal, romantic arrangements of circular carriage drives and plantings of rare American trees.  Downing's design endured until 1934, when the Mall was restored to Pierre L'Enfant's 1791 plan. Downing (1815-52), the father of American landscape architecture, also designed the White House and Capitol grounds.
The memorial urn stood on the Mall near the Smithsonian's National Museum of Natural History for 109 years (1856– 1965). In 1972, it was restored and placed on the lawn east of the Smithsonian building ("Castle") flag tower.  In 1987, it was relocated to the Rose Garden at the Castles east door. The urn was moved to its location in the Enid A. Haupt Garden in 1989.