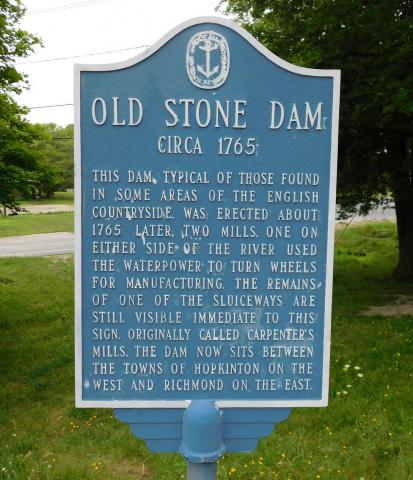 Old Stone Dam historic marker; near Hope Valley, Rhode Island. Photo by Jimmy Emerson, DVM/Flickr (Noncommercial Use Permitted with Attribution/No Derivative Works).
Inscription
OLD STONE DAM, CIRCA 1765
This dam, typical of those found in some areas of the English countryside, was erected about 1765. Later, two mills, one on either side of the river used the waterpower to turn wheels for manufacturing. The remains of one of the sluiceways are still visible immediate to this sign. Originally called Carpenter's Mills, the dam now sits between the towns of Hopkinton on the west and Richmond on the east.
- RHODE ISLAND HISTORICAL SOCIETY