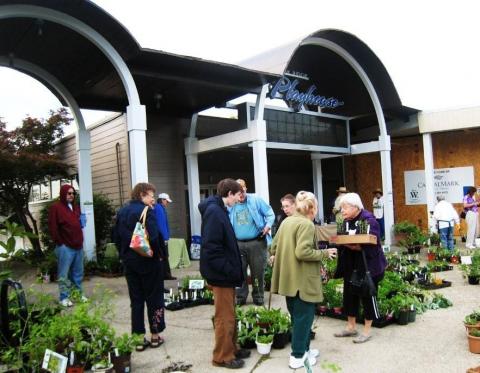 Oak Ridge Playhouse; plant sale being held outside entrance to the community theater.  Photo by Carol Norquist, NGC Chairman/Flickr (Use Permitted with Attribution/No Derivative Works).
Official State Community Theater of Tennessee
Located just northwest of Knoxville, the Oak Ridge Playhouse was designated the official Tennessee state community theater in 2017 (Tennessee Theatre in downtown Knoxville is also recognized as a state symbol, and Tennessee also adopted an official state outdoor drama). All State Theaters - All Arts & Drama Symbols
Operating since 1943, Oak Ridge Playhouse is primarily a volunteer organization and is one of the oldest community theaters in the southeastern United States. Quote from their website: "the Playhouse offers a diverse season of musicals, comedies, dramas, and children's plays serving audiences from Anderson, Knox, Roane, Blount, Sevier, Morgan, Scott, and Cumberland counties."