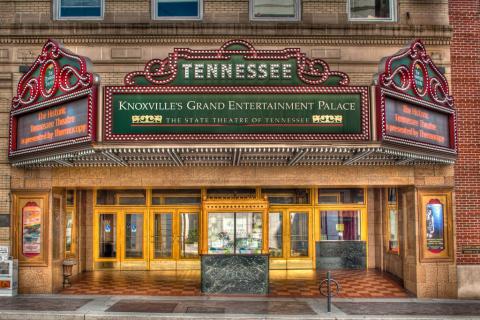 Entrance to Tennessee Theatre; an "Entertainment Palace" that was designated the official state theater of Tennessee in 1999.  Photo by alan.reynolds/Flickr (Noncommercial Use Permitted with Attribution/No Derivative Works).
Official State Theater of Tennessee
Located in the heart of downtown Knoxville, Tennessee Theatre is listed on the National Register of Historic Places and was designated the official state theater of Tennessee in 1999 (in 2009 Tennessee adopted an official outdoor drama and in 2017 a state community theater was also recognized as a symbol of the state). All State Theaters - All Arts & Drama Symbols
Tennessee Theatre first opened in 1928 and is one of the few great movie palaces from the Roaring Twenties still in operation. Today the theater offers classical music, vintage films, dance, theater, and performances by popular musicians.
Billed as "Knoxville's Grand Entertainment Palace," the interior of Tennessee Theatre was designed in the Spanish-Moorish style (although the design contains elements from all parts of the world: Czechoslovakian crystals in French-style chandeliers, Italian terrazzo flooring in the Grand Lobby, and Oriental influences in the carpet and drapery patterns. The theater also features a beautiful Wurlitzer organ.
Origin of Theater
The origin of theater goes back to prehistoric people acting out their hunting experiences and ancients singing and dancing for religious ceremonies. Theater as pure entertainment evolved slowly - the first recorded European theater was in ancient Greece about 600 BC (for a festival honoring the god of wine and fertility). A poet named Thespis won a dramatic play competition at this celebration and is so considered "the first actor" (origin of the term thespian).