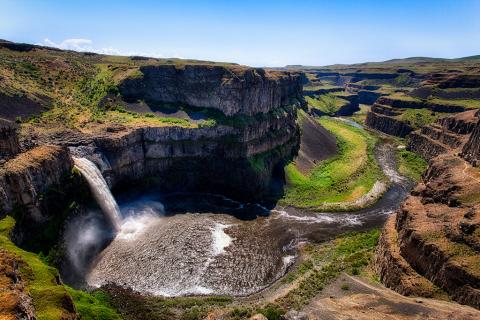 Palouse Falls; official state waterfall of Washington.  Photo by Michael Matti/Flickr (Noncommercial Use Permitted with Attribution).
Official State Waterfall of Washington
Washington designated Palouse Falls as the official state waterfall in 2014. The idea for an official state waterfall was initiated by students at Washtucna Elementary School.
Where the Palouse River drops198 feet on its way to the Snake River was called Aput Aput (meaning "falling water") by the Palouse tribe of native Americans.
Palouse Falls State Park
Palouse Falls State Park is a 105-acre camping park that offers a dramatic view of spectacular Palouse Falls, picnic area, and 1/2 mile of hiking trails.