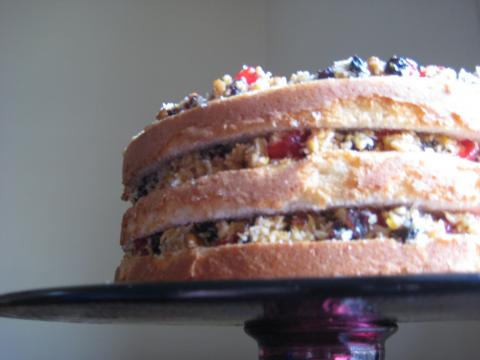 Lane cake; official state dessert of Alabama.  Photo by Erin/Flickr (Noncommercial Use Permitted with Attribution).
Official State Dessert of Alabama
Alabama designated Lane cake as the official state dessert in 2016. A symbol of Southern culture and identity, Lane cake was mentioned in the Pulitzer Prize winning novel "To Kill a Mockingbird," by Harper Lee (born in Monroeville, Alabama).  All State Foods
The original recipe was created by Emma Rylander Lane (from Clayton, Alabama), who won a baking competition with it at a County Fair in 1898. Lane cake may be iced or not, and there are many variations to the recipe, but the unique part is the filling between each layer, traditionally made from a combination of pecans, coconut, whiskey-soaked raisins (a bourbon whiskey, such as Alabama's state spirit), sugar, egg yolks, and butter.