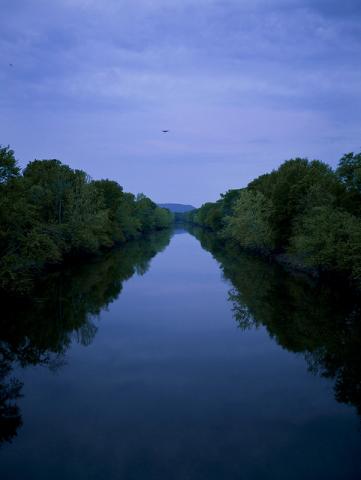 River in Arkansas (Ozarks); photo by Shena Tschofen on Flickr (noncommercial use permitted with attribution / no derivative works).
Official State Historical Song of Arkansas
The Arkansas Traveler was adopted as the official state historic song in 1987; lyrics by the Arkansas State Song Selection Committee in 1947, music by Colonel Sanford (Sandy) Faulkner (about 1850). Arkansas has also adopted three other official state songs: "Arkansas, You Run Deep in Me, "Oh, Arkansas," and "Arkansas"). All State Songs
LYRICS
On a lonely road quite long ago,
A trav'ler trod with fiddle and a bow;
While rambling thru the country rich and grand,
He quickly sensed the magic and the beauty of the land.
CHORUS
For the wonder state we'll sing a song,
And lift our voices loud and long.
For the wonder state we'll shout hurrah!
And praise the opportunities we find in Arkansas.
Many years have passed, the trav'lers gay,
Repeat the tune along the highway;
And every voice that sings the glad refrain
Re-echoes from the mountains to the fields of growing grain.