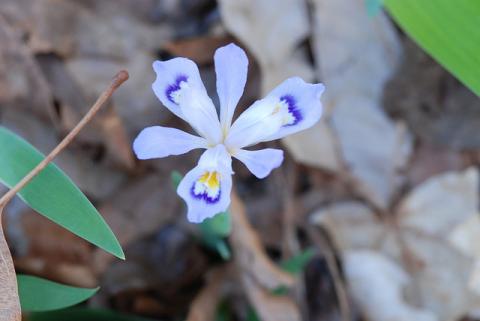 A wild iris on the trail to Hawksbill Crag, Arkansas; photo by Danny Barron on Flickr (noncommercial use permitted with attribution / no derivative works)
Official State Song of Arkansas
In 1987 "Arkansas (You Run Deep in Me)" by Wayland Holyfield was designated an official state song of Arkansas (along with another state song; "Oh, Arkansas," "The Arkansas Traveler," and "Arkansas"). All State Songs
LYRICS
October morning in the Ozark Mountains,
Hills ablazing like that sun in the sky.
I fell in love there and the fire's still burning
A flame that will never die.
CHORUS
Oh, I may wander, but when I do
I will never be far from you.
You're in my blood and I know you'll always be.
Arkansas, you run deep in me.
VERSE 2
Moonlight dancing on a delta levee,
To a band of frogs and whippoorwill
I lost my heart there one July evening
And it's still there, I can tell.
VERSE 3
Magnolia blooming, Mama smiling,
Mallards sailing on a December wind.
God bless the memories I keep recalling
Like an old familiar friend.
VERSE 4
And there's a river rambling through the fields and valleys,
Smooth and steady as she makes her way south,
A lot like the people whose name she carries.
She goes strong and she goes proud.