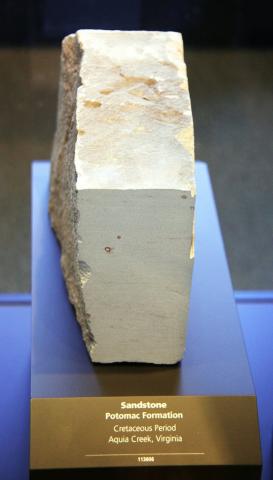 Potomac Formation sandstone (also known as Potomac bluestone); on display at Smithsonian Museum of Natural History in Washington, D.C.  Photo by Tim Evanson/Flickr (Use Permitted with Attribution/Share Alike).
Official Rock Symbol of The District of Columbia
Potomac bluestone was designated the official rock of Washington D.C. in 2015 (Law 20-220, the "DC Rocks, So We Need One Act of 2014"). All State Rocks
From D.C.'s Office of the Secretary; "Quarries along Rock Creek, and at Little Falls, Maryland, provided Washington, DC with building stone from the Piedmont's Sykesville Formation, also known as Potomac Bluestone (Gneiss)."
Called "the rock that built Washington DC," Potomac bluestone was used in the foundations of the White House, US Capitol, and the Washington Monument. Potomac bluestone (or Potomac sandstone) is a metamorphic rock that is relatively easy to carve.