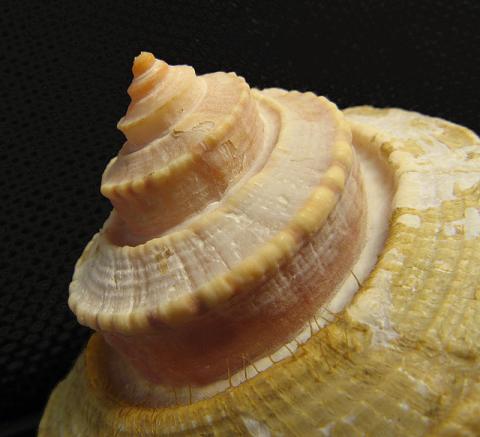 Channeled whelk shell; photo by photoholic1 on Flickr (noncommercial use permitted with attribution / no derivative works).
Official State Shell of Delaware
Delaware designated the channeled whelk as the official state shell May 06, 2014. Delaware also recognizes another official symbol from the sea; the state marine animal. All Aquatic-life Symbols
When Governor Jack Markell signed the legislation recognizing the channeled whelk as a symbol of Delaware, it  concluded an odyssey that began with one young Middletown Girl Scout who was determined to make a difference; Allyson Willis, a sixth-grader at Louis L. Redding Middle School.
Allyson first proposed the idea of an official shell after reading a book about the birds, flowers and other symbols of various states; "I noticed then that Delaware doesn't have a state shell when so many others do, and they don't even have as many beaches as we do! I talked to some of the other kids in my class and they felt the same way I did." That is when Allyson decided to try to convince state leaders to correct this oversight as part of her Girl Scout Bronze Award project.
The channeled whelk is one of two predatory sea snails found on the floor of the central and lower Delaware Bay. The smaller knobbed whelk is the official sea shell of New Jersey and Georgia.
CHAPTER 215, FORMERLY HOUSE BILL NO. 199
AN ACT TO AMEND TITLE 29 OF THE DELAWARE CODE RELATING TO STATE SHELL.
WHEREAS, the channeled whelk is a beautiful sea creature integral to the ecology and economy of the State of Delaware; and
WHEREAS, the warm estuarine waters and sandy sediments of Delaware Bay provide excellent habitat for the channeled whelk and our beaches are graced by their unique shells; and
WHEREAS, whelks are harvested every year all along the east coast, including thousands of pounds by Delaware watermen, and whelk is exported every year to other countries;
NOW, THEREFORE: BE IT ENACTED BY THE GENERAL ASSEMBLY OF THE STATE OF DELAWARE:
Section 1. Amend Chapter 3, Title 29 of the Delaware Code by inserting a new section 324 as shown by underlining as follows:
§ 324. State shell.
The shell of the channeled whelk (Busycotypus canaliculatus) shall be the official shell of the State.
Approved May 06, 2014