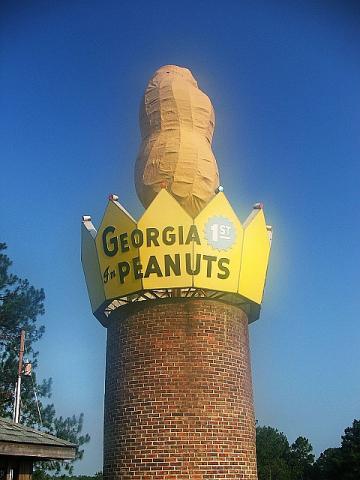 Peanut monument in Ashburn, Georgia; photo by Tom Gill on Flickr (noncommercial use permitted with attribution / no derivative works).
Official State Peanut Monument of Georgia
The peanut monument in Ashburn, Georgia was officially recognized as a state symbol in 1998. The peanut is also the official state crop of Georgia. All State Foods
The big peanut monument, or "The world's largest peanut" was erected in 1975 as a tribute to the peanut processing industry that caused Ashburn to become known as "The Peanut Capital of the World." Ashburn is also home to a peanut museum and the world's largest peanut-shelling plant (The Golden Peanut Company).
The peanut (Leguminosae) probably originated in Brazil or Peru. Peanuts are not really nuts - they are legumes (peas and beans are also legumes). Peanuts grow underground, unlike nuts (like walnuts, almonds, etc). that grow on trees.
The iconic landmark was blown down by Hurricane Michael in 2018. It has been rebuilt of steel and was restored to its spot in June 2023.