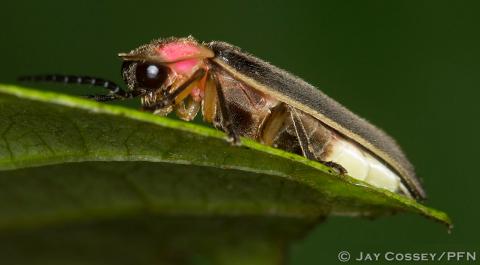 Say's firefly (Pyractomena angulata) photographed in Martin County, Indiana. Photo © Jay Cossey/PhotographsFromNature.com on Flickr (all rights reserved; used by permission).
Say's firefly;    Photo by [file:field-file-photographer]/Flickr ([file:field-file-license]).
Official State Insect of Indiana
Say's firefly (Pyractomena angulata) was designated the official state insect of Indiana on March 23, 2018, due to the perseverance of Cumberland Elementary School students in West Lafayette. All State Insects
The four-year quest to name a state insect began with second-grader Kayla Xu, who realized that Indiana was without a state insect during the 2014-15 school year. Her classmates joined her cause which culminated four years later with Ms. Xu and her classmates testifying before the Senate's public policy committee.
Gov. Eric Holcomb's Statement
"I know this bill bugged some of my legislative friends, but the truth is it's a big deal to young students around the state who have reached out to us in support—particularly students from Cumberland Elementary School in West Lafayette. They've shown incredible perseverance and have advocated for the Say's Firefly to be the official state insect for several years. Beyond the satisfaction these kids will feel when they look out on a hot Indiana summer night and see the state insect flashing away, the real beauty of this bill is the civic engagement it inspired in our youngest citizens. It's taught them a great deal about how our lawmaking process works—and that if they are engaged, they can make a real difference."
Excerpts from Senate Bill 236
WHEREAS, insects constitute 80% of the world's animal species and are critical to the ecological balance of our planet as decomposers, recyclers, pollinators of flowering plants, and an important food source for many animals and even some plants;
WHEREAS, the insect known as a "firefly" or "lightning bug" is really neither a fly nor a bug but a soft-bodied beetle that produces light through a complex chemical reaction in special cells located near the end of its abdomen;
WHEREAS, spectacular nighttime displays of the flashing lights of fireflies have fascinated Hoosier children from June through September in the croplands, roadsides, grasslands, and forests of Indiana generation after generation;
WHEREAS, the designation of a state insect would provide a unique teaching opportunity for educators, a learning opportunity for Hoosier students, and a point of pride for citizens of Indiana;
WHEREAS, Hoosiers have long enjoyed the beauty and mystique of firefly displays, which inspired Hoosier poet James Whitcomb Riley to write:
"The fireflies, like golden seeds,
Are sown about the night."
WHEREAS, Thomas Say, an eminent naturalist who lived and worked in New Harmony, Indiana, in Posey County, and is considered the father of American entomology, named and described the "Say's Firefly" in 1824;
WHEREAS, the "Say's Firefly" is a native species to the Hoosier State;
WHEREAS, fireflies, including the "Say's Firefly," are a contributor to an important agricultural ecosystem;
WHEREAS, both Hoosier students and entomologists alike have advocated for the "Say's Firefly" to be designated as Indiana's state insect since at least 1999; and
WHEREAS, the State of Indiana has the unique opportunity to be the first state to designate the "Say's Firefly" as its state insect:
THEREFORE, Be it enacted by the General Assembly of the State of Indiana [that] Pyractomena angulata, also known as the "Say's Firefly", the species of firefly first described by Thomas Say of New Harmony, Indiana, who is known as the father of American entomology, is designated as the official state insect of Indiana.