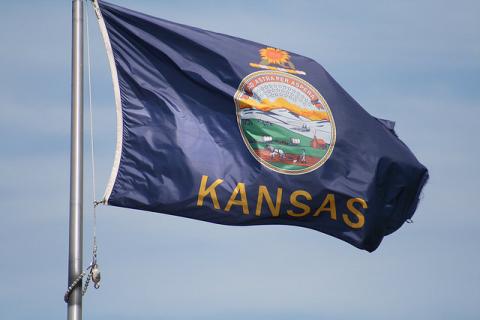 Official State Flag of Kansas
The state flag of Kansas (adopted in 1927) features the Kansas state seal on a field of dark blue. All State Flags
Above the seal is the state crest; a sunflower (official state flower of Kansas) resting on a twisted blue and gold bar that represents the Louisiana Purchase (the original Louisiana Purchase territory is now divided among 13 states). Beneath the state seal is the word KANSAS in yellow capital letters.
Symbols on Kansas Seal
The symbols on the state seal of Kansas were specified by the first Kansas legislature in 1861(the year Kansas became one of the United States). All State Seals
The rising sun represents the east; the river and steamboat are symbols of commerce; the cabin, and the settler and plow horses represent agriculture as the base for the future prosperity of the state of Kansas.
In the distance oxen draw a wagon train west, and a herd of buffalo is pursued by two native Americans on horseback (the American buffalo was adopted as the official state animal of Kansas in 1955); herds of buffalo numbering in the millions once roamed Kansas (correct name is "American bison").
In the sky are thirty-four stars (Kansas was the thirty-fourth state admitted to the Union) with the state motto above: "Ad astra per aspera "("To the stars through difficulties").