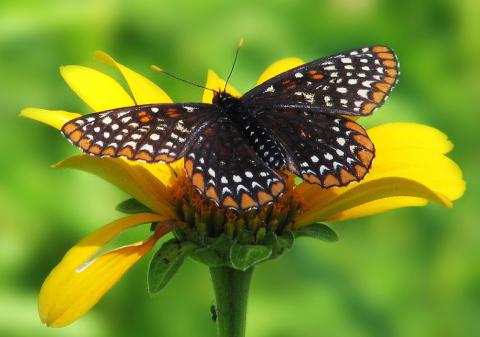 Baltimore checkerspot butterfly;    Photo by [file:field-file-photographer]/[file:field-file-source] ([file:field-file-license]).
Official State Insect of Maryland
Maryland designated the lovely Baltimore checkerspot butterfly (Euphydryas phaeton) as the official arthropodic emblem in 1973. All State Insects
This rare butterfly lives in boggy habitats and seems to be declining in its range (much of the eastern United States). Baltimore Checkerspot caterpillars feed in silk "nests" on turtlehead, false foxglove, plaintain, and ash. The adult butterfly has black, orange-bordered wings speckled with white and orange spots.
Black and orange are also seen on Maryland's state flower, state bird, and even the state cat, in honor of the gold and black colors of the Calvert family (Lords Baltimore) seen on the state flag of Maryland.