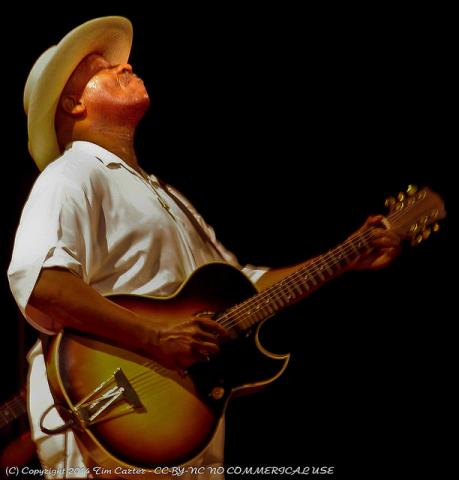 Taj Mahal 2008; photo by Tim Carter on Flickr (noncommercial use permitted with attribution / no derivative works).
Official State Blues Artist of Massachusetts
Massachusetts designated Taj Mahal (blues, jazz, and folk musician Henry St. Clair Fredericks) as the official state blues artist in 2006. All State Awards - All Historic & Iconic People
Taj Mahal was raised in Springfield, Massachusetts and attended the University of Massachusetts at Amherst during the early 1960's. He is a vocalist, a composer, and plays multiple instruments (guitar, harmonica, and banjo). He performs country blues, reggae, jazz, rhythm and blues, ragtime and folk music .
Several other individuals are recognized as official symbols of Massachusetts: Ben Franklin (state inventor), Dr. Seuss (state children's author), Deborah Samson Gannett (state heroine), Johnny Appleseed (state folk hero), and Norman Rockwell (state artist).