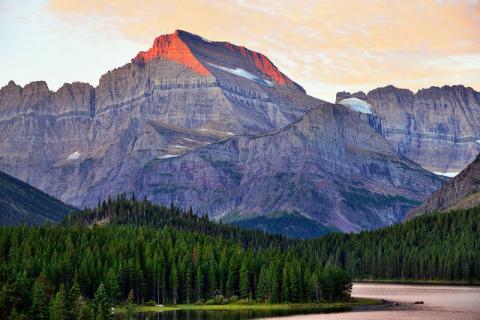 Mount Gould and a view to the Continental Divide in Glacier National Park, Montana; photo by Mark Stevens on Flickr (noncommercial use permitted with attribution / share alike).
Official State Ballad of Montana
Students from Jefferson School in Helena were instrumental in getting the bill passed to have "Montana Melody" (by LeGrande Harvey and Carleen Harvey) adopted as the official state ballad of Montana in 1983. Montana also has an official state song and a state lullaby. All State Songs
"Montana Melody" Lyrics
I long to be in the places that I see
in the pictures of my dreams
Where there's mountains full of trees,
meadows carpeted in green
Silent, snow-fall, clear running streams.
Where the bear-grass blooms
In the spring-time of the year,
And the larch turn gold in the Fall
Where there's deer, elk and antelope
Beaver, bears and birds and the yippin'
coyotes serenade them all.
CHORUS
Yes, there's no place like Montana,
A place to set my spirit free,
a Rocky Mountain melody,
These things are a part of me,
Montana, Montana, my home.
Charlie Russell clouds paint sunsets in the West,
in colors of red, blue and gold.
Snow-capped peaks reach endless to the sky,
and the grain-fields with gentle breezes flow.
There's high mountain lakes, Missouri river breaks
and the open plains, where the buffalo used to roam.
It's a
cowboy
song, it's where Indians belong
God's country, my home sweet home.
I had a dream, of how Heaven's s'posed to be,
and when I die, that's where I want to go.
Cause there's mountains full of trees, meadows
carpeted in green, silent snowfall, clear running streams.