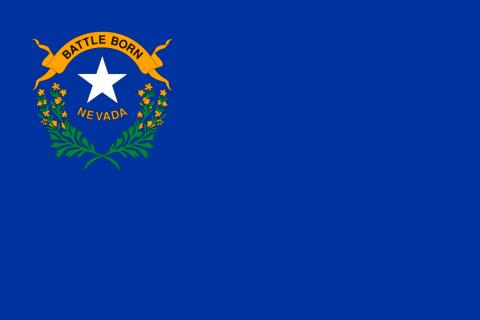 Nevada state flag; "Battle Born" (Nevada joined the Union during the American Civil War).  Photo by Open Clip Art Library/Wikipedia (Public Domain Image).
Official State Flag of Nevada
Nevada has had four state flags during its history. The first flag was adopted in 1905 (over 40 years after Nevada became a state in 1864). The current flag of Nevada was was approved in 1991. All State Flags
Nevada's flag has a cobalt blue background. A five-pointed silver star (silver is the state metal) is positioned in  the upper left quarter of the flag between two sprays of sagebrush that  cross to form a half-wreath (sagebrush is Nevada's state flower, and one of Nevada's nicknames is "The Sagebrush State").
Across the top of the wreath is a golden scroll with the words "Battle Born" in black letters. The phrase "Battle Born" signifies that Nevada entered the Union during the Civil War. Below the star, in golden letters, is the name "Nevada."