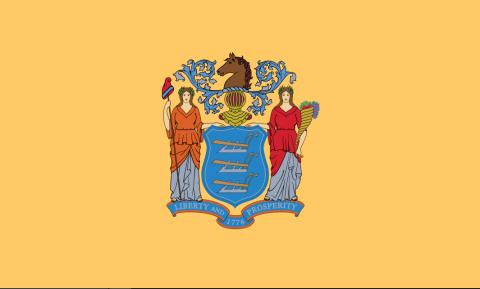 Flag of New Jersey features the coat of arms (also on New Jersey's state seal) and the state colors of buff and Jersey blue (public domain image on Wikipedia).
New Jersey State Flag;    Photo by [file:field-file-photographer]/[file:field-file-source] ([file:field-file-license]).
Official State Flag of New Jersey
In 1780, during the Revolutionary war, General George Washington directed that the regiments of the New Jersey Continental Line have a flag of dark blue and buff (buff and Jersey blue are now recognized as the official state colors of New Jersey). All State Flags
General Washington presumably selected these colors for historic reasons; New York and New Jersey were both originally settled by the Dutch, and dark blue (Jersey blue) and buff were Holland's (the Netherlands) insignia. The center of the flag features New Jersey's coat of arms (featured on the great seal of New Jersey). 
Symbols on New Jersey's Coat of Arms
Three plows on the shield honor the state's agricultural tradition. The helmet above the shield faces forward, an attitude denoting sovereignty (fitting for one of the first governments created under the notion that the state itself is the sovereign). The crest above the helmet is a horse's head (the horse is also New Jersey's official state animal).
The supporting female figures are Liberty and Ceres (Roman goddess of grain - a symbol of abundance). Liberty carries the liberty cap on her staff and Ceres holds a cornucopia filled with harvested produce; they are supported by a banner that reads "Liberty and Prosperity" (New Jersey's state motto).