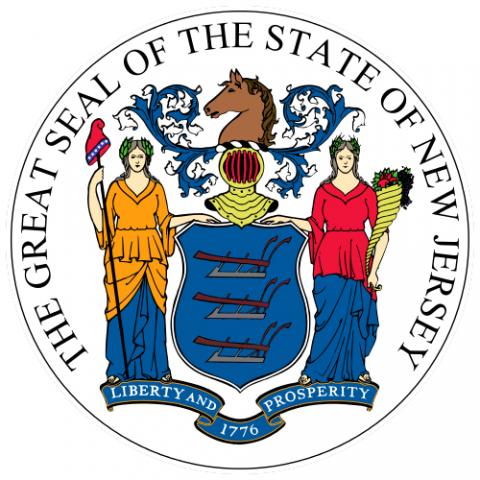 The Great Seal of New Jersey includes a banner with the state motto "Liberty and Prosperity" and the date of New Jersey's statehood: 1776 (public domain image on Wikipedia.
Official State Seal of New Jersey
The great seal of New Jersey was originally designed by Pierre Eugene du Simitiere in 1777 and has had only minor changes made to it since then. The state flag also features New Jersey's coat of arms (the central design of the state seal). All State Seals
Symbols on the Great Seal
Three plows on the shield honor the state's agricultural tradition. The helmet above the shield faces forward, an attitude of sovereignty (fitting for one of the first governments created under the notion that the state itself is the sovereign). The crest above the helmet is a horse's head (the horse is also a symbol of New Jersey; the official state animal).
The supporting female figures are Liberty and Ceres (Roman goddess of grain - a symbol of abundance). Liberty carries the liberty cap on her staff and Ceres holds a cornucopia filled with harvested produce. The banner that supports them contains the state motto "Liberty and Prosperity" and the date of New Jersey statehood: 1776.
The Original State Seal
Originally, Liberty held her staff in the crook of her arm rather than her right hand. The female figures now face straight ahead but once looked away from the shield. The cornucopia that Ceres holds upright was once inverted, its open end upon the ground. In 1928 the year of statehood first appeared in Arabic figures (1776).