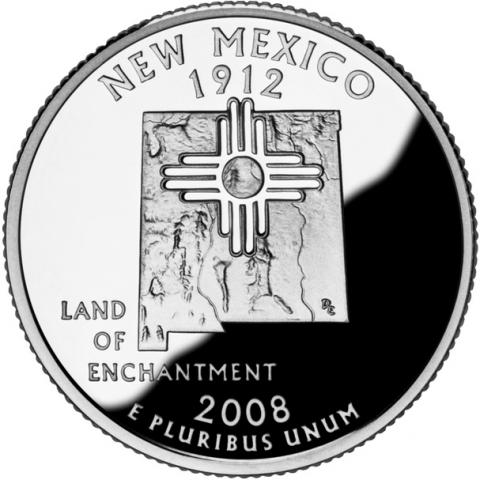 The U.S. Mint's bicenntenial commemorative quarter for New Mexico features the state motto: "Land of Enchantment" and an outline of New Mexico with the Zia sun symbol (also seen on the state flag). New Mexico became the 47th state in 1912. Public domain image on Wikipedia.
Official State Nickname of New Mexico
The nickname for New Mexico is "The Land of Enchantment" ("Tierra del Encanto" in Spanish) because of New Mexico's scenic beauty and rich history (the nickname was officially adopted in 1999). New Mexico also recognizes a state ballad titled "Land of Enchantment - New Mexico." All State Nicknames
"Land of Enchantment" first appeared on New Mexico license plates in 1941. The State Tourist Bureau and New Mexico magazine first used the phrase  "The Land of Enchantment" in 1935 (to encourage tourism to the state).