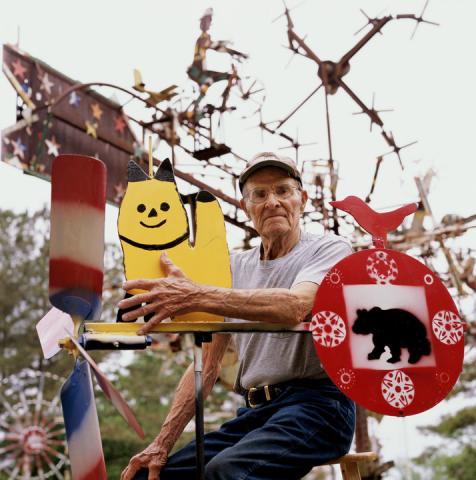 Vollis Simpson on his farm with one of his Whirligigs in May 2010. Mr. Vollis Simpson is the Folk Artist behind the creation of the Whirligigs. Photo by Burke Uzzle (use permitted with attribution / share alike).
Vollis Simpson May 2010; Vollis Simpson on his farm with one of his Whirligigs. Mr. Vollis Simpson is the Folk Artist behind the creation of the Whirligigs. .  Photo by Burke Uzzle /My Photo (Use Permitted with Attribution/Share Alike).
Official State Folk Art of North Carolina
North Carolina designated the giant "whirligigs" created by folk artist Vollis Simpson as the official state folk art on June 20, 2013. North Carolina also recognizes an official art form (clay). All Official Art & Drama Symbols
Excerpt from House Bill 830
".... Whereas, at age 65, Vollis Simpson, a self-taught folk artist, began making giant windmills known as "whirligigs" at his home in Wilson, North Carolina; and
Whereas, Mr. Simpson's whirligigs have been exhibited at the North Carolina Museum of Art in Raleigh, the High Museum of Art in Atlanta, Georgia, and the Visionary Art Museum in Baltimore, Maryland, and at other locations, including New York, California, Canada, and England; and
Whereas, Mr. Simpson and details of his artwork have been featured in many national magazines and in several books; and
Whereas, the City of Wilson is developing the Vollis Simpson Whirligig Park to display a large collection of these whirligigs in historic downtown, which will be a one-of-a-kind destination for visitors ...
...Now, therefore, The General Assembly of North Carolina enacts ... The whirligigs created by Vollis Simpson are adopted as the official folk art of the State of North Carolina."
The Artist
Vollis Simpson never called himself an artist, but the thousands of people who have visited his astounding Whirligig field in Wilson County, North Carolina, certainly do. Towering fifty feet or more above ground, and extending nearly as far outwards into space, the more than thirty monumental whirligigs erected in his field demonstrate the power of individual vision coupled with a traditional art form.  These compelling, nationally recognized assemblages have found their way from a crossroads in rural North Carolina to international art collections and even to popular museums surrounding North Carolina. Now they will find a home in the Vollis Simpson Whirligig Park & Museum in Historic Downtown Wilson, where they will delight visitors young and old from far and wide.
Close inspection of these twirling behemoths reveals an inventory of objects that serves as a catalog of the agricultural and industrial economic history of the second half of the twentieth century in eastern North Carolina.  Highway and road signs, HVAC fans, bicycles, ceiling fans, mirrors, stovepipes, I-beams, pipe, textile mill rollers, ball bearings, aluminum sheeting, various woods, steel rods, rings, pans, milkshake mixers, and many more such materials form the supports and moving parts.  Simpson's "signature" finishing touch to his windmill structures were devised from highway road signs.  Simpson realized that if he cut up signs into 1" square chips and fastened them to the surface of his windmills, they would reflect light, particularly at night.  Catching the Whirligigs' sparkling revolutions in their headlights became a favorite nighttime activity of many in Wilson County.
Vollis Simpson made whirligigs for over 30 years and installed them in a field at his family's farm.  He still worked in his shop until about six months before his death on May 31, 2013 at the age of 94. Over the past few years the Whirligig Project has been moving the Whirligigs from the Simpson farm to a conservation warehouse in Historic Downtown Wilson, where they are being carefully documented, assessed, repaired, and conserved.  Upon completion of the Vollis Simpson Whirligig Park & Museum, all of the Whirligigs will be in maximum working order and freshly painted.
CONTRIBUTORS: Content for this article was submitted by Stefanie R. Jones, Communications Specialist for The City of Wilson.  It includes material (used with permission) from work by Sally Peterson, Folklife Director at the NC Arts Council, and Jenny Moore, Project Manager at Vollis Simpson Whirligig Park Project.