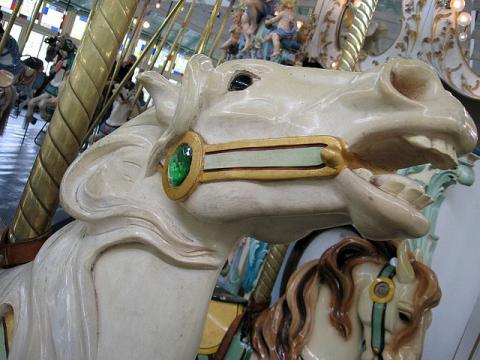 Crescent Park carousel horse; photo by Carolyn on Flickr (noncommercial use permitted with attribution).
A National Historic Landmark in Rhode Island
The Charles I.D. Looff Carousel (also known as the Crescent Park Carousel) was designated the Rhode Island state symbol of American folk art in 1985. All Arts & Drama Symbols
All that remains of a large Victorian-era amusement park, the Looff Carousel is one of the few handmade carousels still in use today. It was designed and built in 1895 by Charles I.D. Looff, a native of Denmark.
The Crescent Park Carousel is nationally recognized as a true masterpiece of wood sculpture. It was placed on the National Register of Historic Sites and Places and recognized by the Department of the Interior's National Park Service as a National Historic Landmark.
The carousel features 56 hand carved wood jumping horses, 6 stationary horses, 4 chariots, a camel, a Wurlitzer military band organ, decorative panels, beveled mirrors, faceted glass jewels, electric lights, and colored sandwich glass windows (description courtesy of Looff Carousel at Crescent Park, Bullock's Point Ave, East Providence, Rhode Island USA).