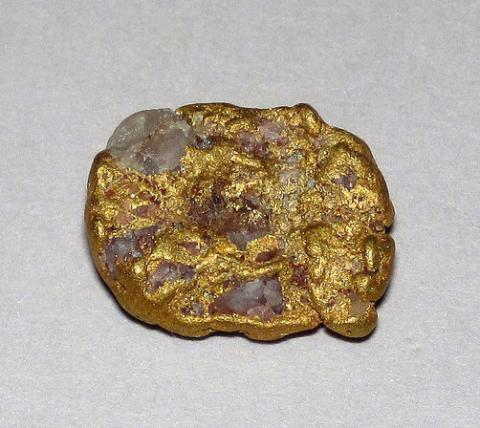 Gold-quartz nugget (1 cm across) from the Black Hills of South Dakota, USA; photo by James St. John on Flickr (use permitted with attribution).
Official State Jewelry of South Dakota
South Dakota designated Black Hills gold as the official state jewelry in 1988. South Dakota also recognizes an official state gemstone (Fairburn agate) and a state mineral stone (rose quartz). All State Gemstones - All State Minerals
Black Hills gold jewelry is created and manufactured exclusively in the Black Hills of South Dakota. Each design incorporates the motif of grapes and leaves in combinations of green, rose, and yellow gold.
The distinctive colors of Black Hills gold jewelry are accomplished through an alloy process (mixing other metals with 24-carat gold). The delicate green color is achieved through the addition of sterling silver, and copper is blended with the gold to produce a subtle pink color.