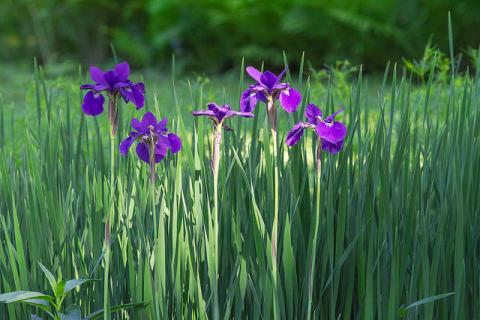 Purple iris flowers; photo by cobalt123 on Flickr (noncommercial use permitted with attribution / share alike).
Official State Song of Tennessee
Tennessee designated "When it's Iris Time in Tennessee" by Willa Waid Newman as an official state song in 1935 (iris is also a state flower of Tennessee). Official Tennessee Songs - All State Songs
LYRICS
Sweetness of Spring memories bring
Of a place I long to be.
Land of Sunshine calls this old heart of mine,
Come back to Tennessee.
VERSE 2
Rocks and the rills deep tinted hills,
There's no spot so dear to me,
Where'er I roam still it's my Home Sweet Home,
My own, my Tennessee.
CHORUS
When it's Iris time down in Tennessee,
I'll be coming back to stay
A lilting love song gay.
Where the Iris grows,
Where the Harpeth flows,
That is where I long to be.
There's a picture there that lives in memory
When it's Iris time in Tennessee