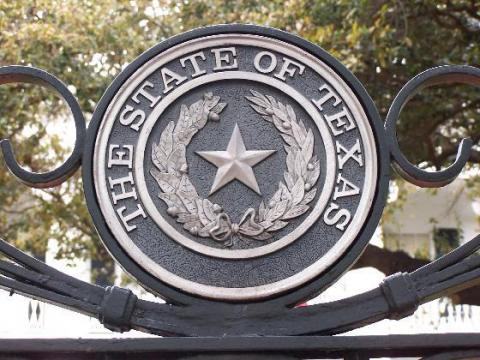 The state seal of Texas is represented on the wrought-iron gate to the governor's mansion in Austin; photo by J. Stephen Conn on Flickr (noncommercial use permitted with attribution). 
Official State Seal of Texas
The state seal of Texas features the famous Lone Star (also found on the state flag). All State Seals
The original Lone Star design was adopted as the seal of the Rebublic of Texas in 1836: "for the future the national seal of this republic shall consist of a single star, with the letters 'Republic of Texas,' circular on said seal, which seal shall also be circular."
The branches on either side of the star were added in 1839 (an oak branch on the left and an olive branch on the right). The current great seal was adopted in 1845 after Texas became a state (it is described in the state constitution). The only change made to the 1839 design was replacing the word "Republic" with the word "State." Official documents of Texas are authenticated with the Great Seal. 
Reverse of State Seal of Texas
Texas is one of the few states which has a design for the reverse of the state seal:
Concurrent resolution approved by the governor on June 14, 1991:
"RESOLVED, That the design for the reverse side of the Great Seal of Texas shall consist of a shield, the lower half of which is divided into two parts; on the shield's lower left is a depiction of the cannon of the Battle at Gonzales; on the shield's lower right is a depiction of Vince's Bridge; on the upper half of the shield is a depiction of the Alamo; the shield is circled by live oak and olive branches, and the unfurled flags of the Kingdom of France, the Kingdom of Spain, the United Mexican States, the Republic of Texas, the Confederate States of America, and the United States of America; above the shield is emblazoned the motto, "REMEMBER THE ALAMO", and beneath the shield are the words, "TEXAS ONE AND INDIVISIBLE"; over the entire shield, centered between the flags, is a white five-pointed star..."