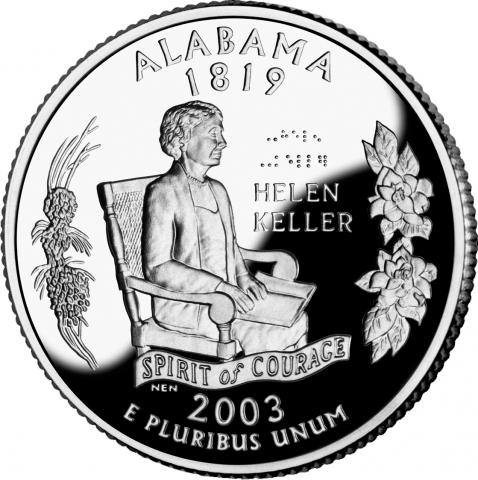 Alabama Quarter; features Helen Keller, Alabama's state tree and state flower.  Photo by United States Mint/Wikipedia (Public Domain Image).
Alabama Commemorative Quarter
The U.S. Mint's bicentennial commemorative quarter for Alabama features Helen Keller reading braille from a book in her lap; the words "Helen Keller" in standard print and in braille; a longleaf pine branch (the state tree); camellia blossoms (the state flower); and a "Spirit of Courage" banner. Alabama became the 22nd state in 1819. All State Quarters
A play that dramatizes the story of Helen Keller's early life as a deaf mute, and her teacher Anne Sullivan is recognized as the official state outdoor drama of Alabama ("The Miracle Worker" by William Gibson).