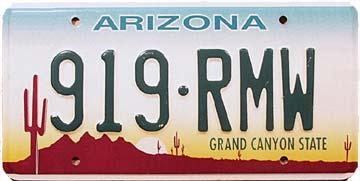 Blue and gold state colors on Arizona license plate; photo © Norm Russo (all rights reserved; used by permission).
Official State Colors of Arizona
Blue and gold were designated the official colors of the state of Arizona in 1915. All State Colors
Arizona's colors are featured on the state flag; the blue on the lower half of Arizona's flag is the same "liberty Blue" found on the U.S. flag. The rays of gold represent the western setting sun (the copper star in the flag's center represents Arizona's official state metal).