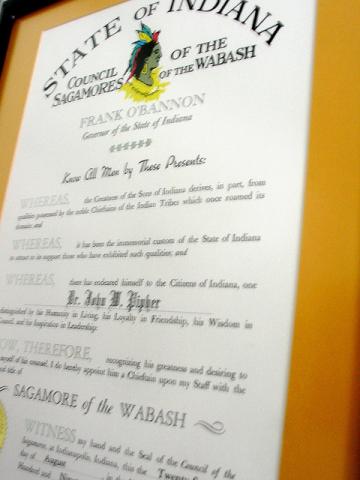 Sagamore of the Wabash award; photo by Josh H on Flickr (noncommercial use permitted with attribution / share alike).
Official State Award of Indiana
The highest distinction in Indiana is the designation of "Sagamore of the Wabash" by the state governor. All State Awards
"Sagamore" was a term used by native American tribes of Indiana (and other tribes of the northeastern United States) to describe a lesser chief or a great man among the tribe whom the chief consulted for wisdom and advice. "The Wabash" refers to Indiana's official state river.
From in.gov; "it [Sagamore of the Wabash] is a personal tribute usually given to those who have rendered a distinguished service to the state or to the governor. Among those who have received Sagamores have been astronauts, presidents, politicians, ambassadors, artists, musicians, and ordinary citizens who have contributed greatly to our Hoosier heritage."
Transcript of the award that is issued:
STATE OF INDIANA
COUNCIL OF THE SAGAMORES OF THE WABASH
______________________________________
Governor of the State of Indiana
Know All Men by These Presents:
WHEREAS, the greatness of the Sons of Indiana derives, in part, from qualities possessed by the noble Chieftains of the Indiana Tribes which once roamed its domain; and
WHEREAS, it has been the immemorial custom of the State of Indiana to attract to its support those who have exhibited such qualities; and
WHEREAS, there has endeared himself to the Citizens of Indiana one
_________________________________
Recipient's Name
distinguished by his Humanity in Living, his Loyalty in Friendship, his Wisdom in Council, and his Inspiration in Leadership:
NOW, THEREFORE, recognizing his greatness and desiring to avail myself of his counsel, I do hereby appoint him a chieftain upon my staff with the rank and title of :
SAGAMORE of the WABASH
WITNESS my hand and the Seal of the Council of the Sagamores at Indianapolis, Indiana this ________ day of __________ in the year of Our Lord, Nineteen Hundred and ___.
Governor's Signature            
________________________________
​Governor of the State of Indiana