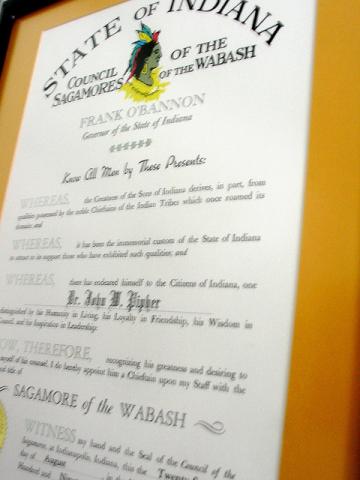 Sagamore of the Wabash award; photo by Josh H on Flickr (noncommercial use permitted with attribution / share alike).
Sagamore of the Wabash
The highest distinction in Indiana is the designation of Sagamore of the Wabash by the state governor. "Sagamore" was a term used by native American tribes of Indiana to describe a lesser chief or a great man among the tribe whom the chief consulted for wisdom and advice. Following is the content of the certificate that is issued:
State of Indiana
Council of the Sagamores of the Wabash
(Governor of the State of Indiana) 
______________________________________
Known All Men by These Presents:
WHEREAS, the greatness of the Sons of Indiana derives, in part, from qualities possessed by the noble Chieftains of the Indiana Tribes which once roamed its domain; and
WHEREAS, it has been the immemorial custom of the State of Indiana to attract to its support those who have exhibited such qualities; and
WHEREAS, there has endeared himself to the Citizens of Indiana one
          (Recipient's Name)

_________________________________
distinguished by his Humanity in Living, his Loyalty in Friendship, his Wisdom in Council, and his Inspiration in Leadership:
NOW, THEREFORE, recognizing his greatness and desiring to avail myself of his counsel, I do hereby appoint him a chieftain upon my staff with the rank and title of :
SAGAMORE of the WABASH
WITNESS my hand and the Seal of the Council of the Sagamores at Indianapolis, Indiana this ________ day of __________ in the year of Our Lord, Nineteen Hundred and ___.
(Governor's Signature)         

________________________________

​Governor of the State of Indiana.