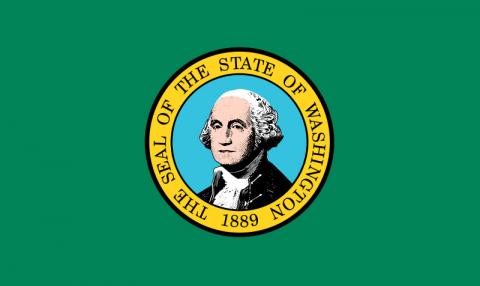 Washington's flag; the only state flag that displays an image of an actual person.  Photo by WA Secretary of State/Wikipedia (Public Domain Image).
Official State Flag of Washington
Washington's flag is the only state flag on a field of green; an appropriate color for the evergreen state (Washington's unofficial nickname).
Washington also has the only state flag displaying an image of an actual person (George Washington, our first president). All State Flags - All State Nicknames
Legal Description of the Washington state flag:
The official flag of the state of Washington shall be of dark green silk or bunting and shall bear in its center a reproduction of the seal of the state of Washington embroidered, printed, painted or stamped thereon. The edges of the flag may, or may not, be fringed. If a fringe is used the same shall be of gold or yellow color of the same shade as the seal. The dimensions of the flag may vary.
Washington is the only state that is named in honor of a United States president.