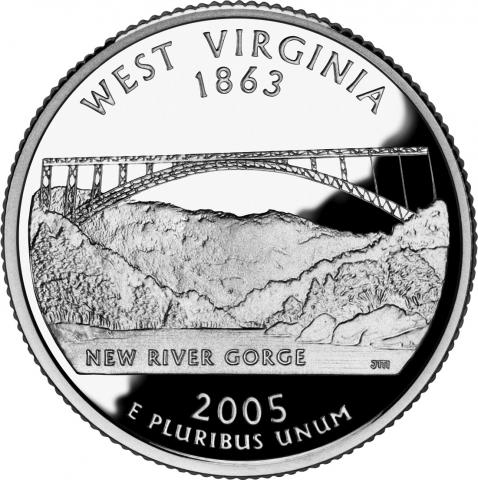 The U.S. Mint's bicentennial commemorative quarter for West Virginia; features the New River Gorge bridge (the New River Gorge area is protected by the National Park Service). West Virginia became the 35th state on June 20, 1863.   Photo by United States Mint/Wikipedia (Public Domain Image).
Official State Song of West Virginia
"West Virginia, My Home Sweet Home," by Julian G. Hearne, Jr (a Wheeling native, attorney, and career military officer), was designated the official state song of West Virginia in 1947. Since then, West Virginia has recognized three more state songs; "The West Virginia Hills," adopted in 1961; "This is My West Virginia," adopted in 1963, and "Take Me Home Country Roads," adopted in 2014. All State Songs
Lyrics to "West Virginia, My Home Sweet Home"
West Virginia my home, sweet home
My heart beats with lasting love for you
Where my roots are so deep, where my forefathers sleep
Where the kinfolks and friends are staunch and true;
Where the Blue of the North, and the Grey of the South
Long have blended in perfect harmony
Where the East meets the West, and derives from each the best
That's West Virginia, home, sweet home for me!
VERSE 2
West Virginia my home, sweet home
Where mountains and hills and valleys, too
And the orchards, the farms, timberlands, all have charms
And the factories and mines are on review;
There I work, and I play, and I worship Sunday
In that land where the mountaineers are free
Other states are OK, it's a grand old USA
But West Virginia's home, sweet home for me!