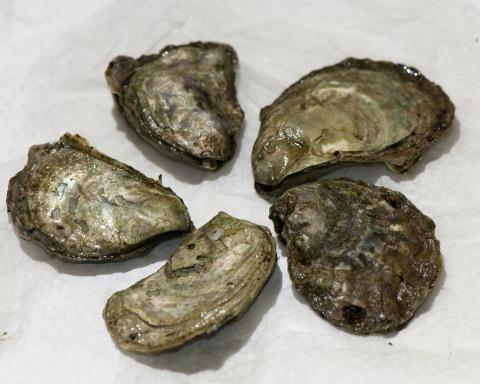 Ostrea lurida; official state oyster of Washington.   Photo by VIUDeepBay/Flickr (Use Permitted with Attribution).
Official State Oyster of Washington
Washington adopted Ostrea lurida as the official state oyster in 2014. All Aquatic-Life Symbols
The only oyster species native to the Pacific Northwest coast, Ostrea lurida was championed as a state symbol of Washington by 14-year-old Claire Thompson, an eighth-grader at Nova School in Olympia. Ostrea lurida oysters are also commonly called native oysters, western oysters, and Olympia oysters.
Quote from legislation: "The Ostrea lurida is hereby designated the official oyster of the state of Washington. This native oyster species plays an important role in the history and culture that surrounds shellfish in Washington state and along the west coast of the United States. Some of the common and historic names used for this species are Native, Western, Shoalwater, and Olympia."
The oyster is also a symbol of Connecticut (eastern oyster); oyster shells are a symbol in Mississippi and Virginia (Crassostrea virginica); and Louisiana designates cabochon-cut oyster shell as the state gemstone (cabochon is a smooth-shaped, polished stone vs. faceted).