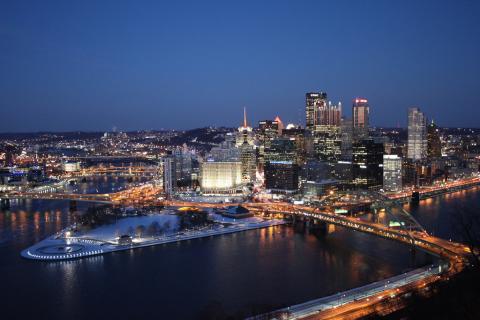 Pittsburgh skyline showing 3 rivers and Point Park; photo by Joseph on Flickr (noncommercial use permitted with attribution / share alike).
The Steel City
The city of Pittsburgh is located in southwestern Pennsylvania midst the rolling hills of the Alleghenies (part of the vast Appalachian Mountain Range).
The hub of the city sits where the Monongahela and Allegheny rivers converge to form the Ohio river (referred to locally as Downtown, The Point, or The Golden Triangle) .
Pittsburgh is called The Steel City because of the hundreds of steel-related businesses that have called this city home. Another nickname for Pittsburgh is The City of Bridges - there are 446 of them!
Geography and Population
Pittsburgh is the seat of Allegheny County and the second-largest city in Pennsylvania, with an approximate population of 305,841 in 2013. The city of Pittsburgh covers 55.37 square miles and has 90 distinct neighborhoods which retain their ethnic character and reflect Pittsburgh's immigrant history. These neighborhoods are grouped into five major sections of the city:
The Golden Triangle: the compact hub of the city with 30 skyscrapers and a 14-block cultural district that is packed with theaters and arts venues. Locally called simply "Downtown" or "The Point."
North Side: primarily residential neighborhoods with architecturally interesting homes, many dating from the 19th century. The North Side also boasts many popular attractions including Carnegie Science Center, National Aviary, Andy Warhol Museum, Children's Museum of Pittsburgh, and Allegheny Observatory.
South Side: one of the most popular places to live in the city. The South Side's East Carson Street is one of the most vibrant spots in the city - packed with shops, ethnic eateries, nightlife, and live music.
East End: the East End is home to major Pittsburgh universities and many attractions including The Carnegie Museums of Art and Natural History, the Pittsburgh Zoo, and PPG Aquarium.
Shadyside and Squirrel Hill are large, wealthy neighborhoods in the East End, each featuring shopping and business districts. Oakland is home to most of the universities and is heavily populated by undergraduate and graduate students. Oakland also features Schenley Park, Carnegie Museums of Art and Natural History, Phipps Conservatory, and the Petersen Events Center.
Bloomfield is Pittsburgh's "Little Italy" (known for its Italian restaurants and grocers). Lawrenceville is a rowhouse neighborhood that is popular with artists and designers. The Strip District is an open-air marketplace by day and a nightclub destination at night.
West End: numerous residential neighborhoods including Mt. Washington, with its famous view of the Downtown skyline.
History
Official colors: black and gold.
Parks
Landmarks
Historic Markers
Historic | Iconic People